---
Web Consulting Overview
Designed for executives who are responsible for: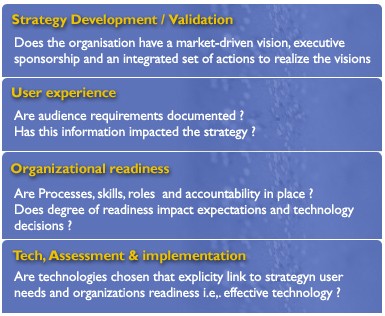 Developing Web strategy,
Ensuring that Web sites are effective and easy to use,
Optimizing the ROI for Web projects and
Managing complex sites throughout their lifecycle, while ensuring their alignment with the business needs.
The Web Effectiveness Program consists of six modules:
Features and Benefits of our Web Effectiveness Program
The Web Effectiveness Program enables an enterprise to translate corporate Web strategy into effective Web site design and to measure and manage the effectiveness of its Web sites by:
Assisting the company with its Web strategy and, during the development process, ensuring that the next Web site release is aligned with business objectives. Key measures of success:
Common language and understanding among the Web project team for making and implementing Web site decisions,
Increased ROI from aligning the Web strategy with key business goals,
More meaningful and accurate data to improve both operational and strategic decision-making.
---
Source URL: https://effbis.com/web-consulting
Links
[1] https://www.effbis.com/node/57
[2] https://www.effbis.com/node/23
[3] https://www.effbis.com/node/25
[4] https://www.effbis.com/node/37
[5] https://www.effbis.com/node/39